Class Materials
Motors, Battery Packs, and Leads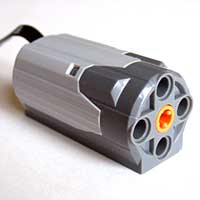 We love introducing students the endless possibilities of motorizing their LEGO creations. In the vast majority of our programs, our instructors utilize the Power Functions system introduced by LEGO in 2007. The Power Functions system includes the M motor (pictured here), which is what we use in our classes, though there is also a higher torque and higher speed XL motor. The system has various battery box options as well as an infrared remote control unit. At this point, however, LEGO has discontinued the manufacture and sale of Power Functions system. It may still be possible to find limited quantities of these components through Bricklink (an online LEGO parts marketplace) and other sellers, but finding these items is increasingly difficult.
LEGO does have newer electronic components available for purchase, under various product lines (Powered Up, Boost, etc.), which you can purchase directly from LEGO or other vendors. Many of these now operate with Bluetooth and an app from a phone or tablet and are more versatile and programmable than the Power Functions line.
In addition to what students learn in our classes, many excellent resources are available with building instructions using a variety of these motorized systems. Among the books we recommend are The LEGO Technic Idea Book (Volume 1: Simple Machines, Volume 2: Fantastic Contraptions, Volume 3: Wheeled Wonders ) and The Unofficial LEGO Technic Builder's Guide.
Other Parts
Our teaching kits contain hundreds of unique parts, including some parts that we fabricate ourselves. We custom build our teaching kits from parts obtained from many sources. Some of the best places to purchase parts include LEGO Education, LEGO Shop at Home, and Bricklink
Activity Center
Our Marin Activity Center features a parts store with hundreds of different LEGO parts. The parts store is open during Play-Well Marin's regular business hours.